Classic Christmas Centerpiece $49.99
1-800-FLOWERS.COM
Shop from their Holiday Collection and Save!
$10 off a purchase of $75 or more
$15 off a purchase of $95 or more
$20 off a purchase of $125 or more
Valid 12/1-12/31
Enter Code HH3 at checkout to save

1-800-FLOWERS.COM | GreatFood.com presented by 1-800-FLOWERS.COM



Birthday Express
Complete party planning, from invitations, to food, to games! Over 100 Kids Party themes! All the popular Characters!
Free Shipping on $75+.

Save up to 40% off Party Supply Sale items!

$5 off first purchase Code: PBF-272 exp.12-31-02
Blair
Apparel, Home Products, Gifts, and more

Everything clearance priced up to 75% off!

Free Shipping on $50+ Code: QA8
CardStore.com
Custom printed personalized Greeting Cards, Photo Cards, Invitations and Announcements.
CarePackages.com
Don't send the usual gift! Send a care package! Great place to spend your flooz!
ChelseaPaper.com
Invitations, announcements and stationery for every occasion.

$10 off. Code: EGA58B1 exp.7-31

$15 off of $50+ Code: BXDXKX exp.7-31
DecorLine
Gifts, home decor, designer jewelry, and unique collectibles.
Coupons not valid on sale items.
$10 off $45. Code: M9F2MS2

$10 off $50. Code: M9F2EX5

$20 off $100. Code: M9F3BIZ
Evite's free online invitations
Flooz.com
The Online Gift Currency!
5% off. Code: S277505R or F278124M

10% off. Code: K278557C or I287301H

$5 off. Code: T287872E or D288382G

$10 off. Code: Q385779Y exp.7-1
Gifts.com
Gifts.com has the perfect gift for any occasion be it unique, practical, romantic or just for fun with the convenience of online ordering.
Shipping: Ground starts at $4.95 and up.

Free Shipping on $100+ Code: SHIPFREE exp.6-30

Shipping: $5

Free Shipping on $25+
Hallmark
Keepsake Ornament lovers: Shop online for a dozen new ways to welcome Spring.

Illuminations.com
Living by Candlelight
Illuminations Clearance 30-75% off!

Botanical Aromatherapy Products are 20% off!

Free Shipping on $75+
---
---
Internet Florist
Flowers, Gifts, Collectables, Balloon Bouquets, and more!

iParty.com
Your source for ideas, advice & party supplies galore!
The Lighter Side
Great Gifts. Funny t-shirts, gag gifts, gadgets and more. Lots of Holiday items.

Bargain Basement. Up to 50% off.
MarthaStewart.com
Flowers and Gifts, Cooking, Decorating, Gardening, and Crafts.

Send a free virtual Bouquet

10% off. Code: EARTH
Personal Creations
Unique Personalized Gifts
Clearance Sale - Up to 70% off.
Priority Flowers
---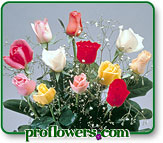 Look what I found! This wonderful little company called
Proflowers.com. They sell fresh cut flowers direct from the grower to your loved ones and pass the savings to you. They also have this great
7 day freshness guarantee. I can tell you that
Proflowers.com lived up to their promise. I ordered the Assorted Roses, that's the flowers you see here, and they were absolutely beautiful. Try it! I guarantee you'll love it.
---
The San Francisco Music Box & Gift Company
Winter Sale! Big Savings! Up to 50% off!
Spencer Gifts
Collectables, Gag Gifts, Toys, Funky Home Decor, Apparel and more.
Save up to 50% on all Clearance Merchandise.
Spilsbury Puzzle
Puzzles, Games and Gifts.

Over 50% off in Clearance!

Save when you buy 2 or more!

Sugar Plum
For the best online candy and gifts.
20% off. Code: MC2000 exp.5-1
Things You Never Knew Existed
Big savings in clearance section! Catalog of the goofiest gags, weirdest gadgets and hard-to-find kooky items.We also carry a great selection of diecast collectibles!

UncommonGoods
Unusual Housewares and gifts!

Up to 65% off Clearance items!